毎週2回、前日正午までに頂いたご注文を火曜日、金曜日に出荷させていただきます
Orders received by noon the day before will be shipped twice a week on Tuesdays and Fridays.
商品はすべてご注文をいただいてから調理・冷凍いたします。
All products will be cooked and frozen after receiving your order.
Nawab Mango 5kg (14-16 Pieces) / ナワブマンゴー 5kg (14-16個入)※冷蔵発送/他の商品と同時購入不可
* Please remember this item is only sold from 07/15/2022 17:00 to 09/30/2022 23:59.
Japan domestic shipping fees for purchases over ¥10,800 will be free.
Shipping fee is not included. More information.
【お届け予定時期】出荷可能
※こちらの商品は冷蔵発送のため他の冷凍品と同梱できません。
※他の商品も購入希望の場合、お手数ですが、注文を分けていただけるようお願いします。

芳醇な香りと濃厚な甘さが特徴のパキスタン産のナワブ マンゴーが入荷しました。高糖度で非常に甘くとっても美味しいマンゴーです。

=============

現在のパキスタンが位置する地域やその近郊諸国でのマンゴーの歴史は非常に古く、約4000年前から栽培されていたと言われています。

中でもパキスタンマンゴーの種類は150種類以上といわれ、黄色系の 芳醇で高貴な香り、そして糖度が非常に高く濃厚な甘さが特徴です。

特にシンド産のシンドリとバハーワルプル地域のチョウサ2品種が有名です。完熟するとその糖度はなんと24度にもなります。

とにかく甘ーいのです。世界でも1番おいしいと言われ、「女王のフルーツ」とも言われているのがパキスタンのシンドリ産のナワブ マンゴーです。
Add to Like via app
【お届け予定時期】出荷可能
※こちらの商品は冷蔵発送のため他の冷凍品と同梱できません。
芳醇な香りと濃厚な甘さが特徴のパキスタン産のナワブ マンゴーが入荷しました。高糖度で非常に甘くとっても美味しいマンゴーです。

=============

現在のパキスタンが位置する地域やその近郊諸国でのマンゴーの歴史は非常に古く、約4000年前から栽培されていたと言われています。

中でもパキスタンマンゴーの種類は150種類以上といわれ、黄色系の 芳醇で高貴な香り、そして糖度が非常に高く濃厚な甘さが特徴です。

特にシンド産のシンドリとバハーワルプル地域のチョウサ2品種が有名です。完熟するとその糖度はなんと24度にもなります。

とにかく甘ーいのです。世界でも1番おいしいと言われ、「女王のフルーツ」とも言われているのがパキスタンのシンドリ産のナワブ マンゴーです。
※他の商品も購入希望の場合、お手数ですが、注文を分けていただけるようお願いします。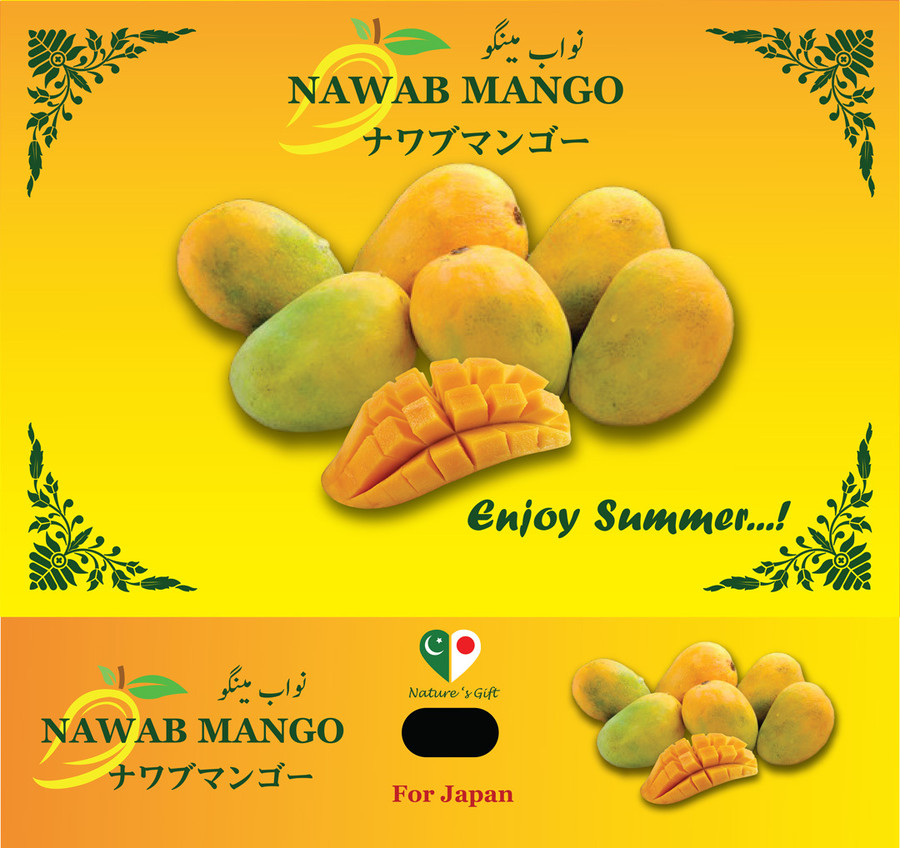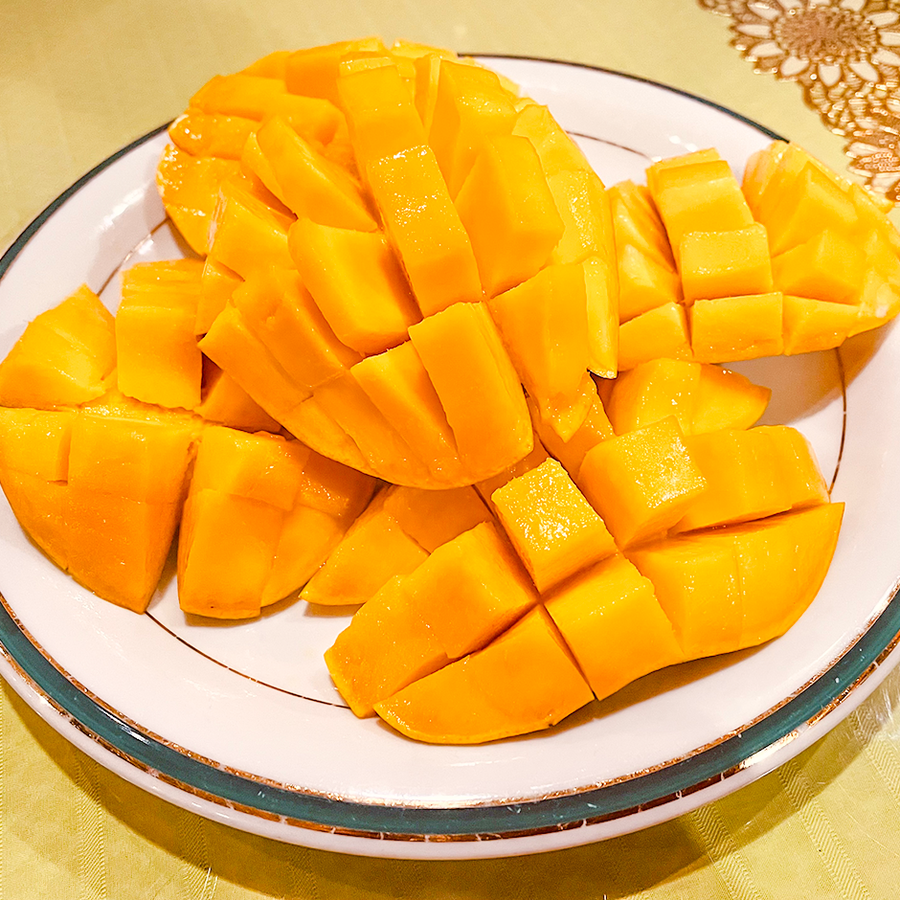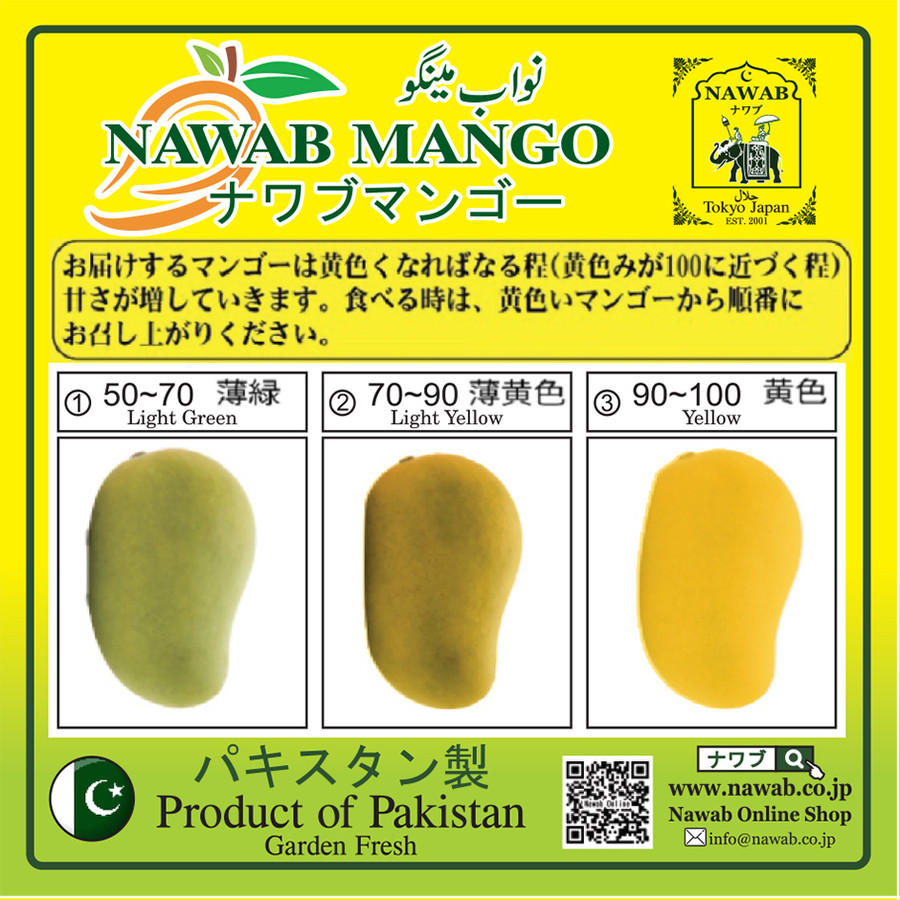 Reviews

(12)

Shipping method / fee

Payment method